TRUE LOCALS
Chance, talent and dedication - The life ingredients of carver Hermann Klocker
You don't have to be born in the Leutasch Valley to belong here and leave your mark on the region, at least to a small extent. Woodcarver Hermann Klocker has been proving this impressively for over 20 years. For a long time, the knocking of blows and the wood chips of the native of East Tyrol were part of the inventory of the Kühtaierhof. Now he carves in the Kulturhaus Ganghofermuseum and is happy about every visitor who stops by in his carving room on the second floor.
New Home Culture House Ganghofer Museum
You hear them as soon as you enter the Kulturhaus Ganghofermuseum: the gentle strokes with which Hermann Klocker works his wood to create nativity figures, cows or birds. If you come to the second floor, you sometimes stumble over small and large wood chips. "That's another way to bring a little extra life to the museum," Klocker says mischievously. The 82-year-old loves his new workplace, the light-filled room with its countless carving tools and the many large and small figures that adorn the ledges and walls. That he ended up here was a happy coincidence, like so many things in his life. His former Werkstattl in the Kühtaierhof was needed elsewhere, Klocker was looking for a new space. "That's when I met Iris*, we chatted, she told me about this space here and immediately made me an offer," smiles Klocker. "And now I have a contract until I'm 85." The new carving room, he says, is a quantum leap from his old little workshopl in the Kühtaierhof, which many had described as a dark hole. Still, he said, he loved the dark Kammerl, too. "I was happy in there."

*Iris Krug, the longtime director of the Kulturhaus and to this day its zealous senior manager
Happiness is a Vogerl - or a Brettl and in any case the carving bench!
Happy, because there he could completely pursue his passion, carving. But even this great passion, which has shaped his life for well over 20 years, the native of Dölsach discovered rather by chance.

"We had a small summer cottage in Karrösten (near Imst). There I wanted to decoratively clad the roof purlins, but no one had time."

So he simply did it himself. At that time, the trained machinist was still working in Landeck. There he had started at the workbench at the Krismer company, later switching to the desk. "I always missed out on the manual work," he admits. That's when carving came in handy.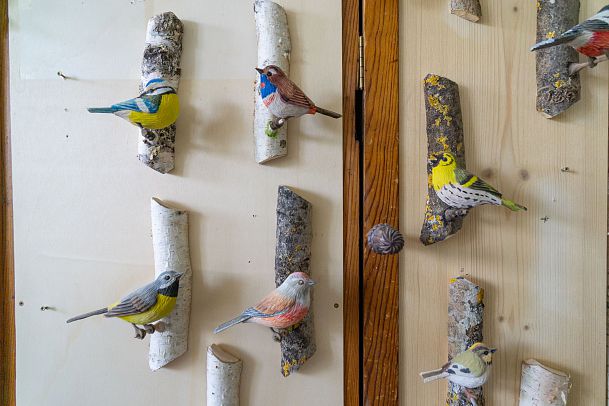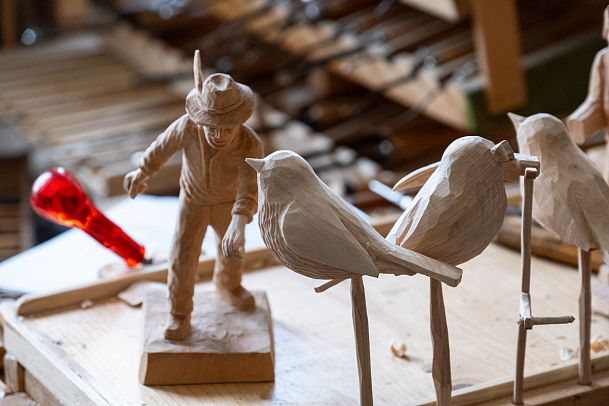 Nevertheless, after the decorative boards for the purlins, it took a little while before things really got going. At the beginning of his retirement, however, Klocker was looking for a task. He remembered his pine boards from the Sommerhäusl, the strength they had given him, and began to carve. His first work: a figure of his granddaughter Chiara, just learning to play the flute. That's when his passion got the better of him. And he still feels it today, with every commissioned work and every gimmick he makes just for himself. These gimmicks, such as the countless large and small vogues, then decorate the carving room. And make it Klocker's second home:
"I'm really happy every day when I can be here in Leutasch."
To be in a generous mood in marriage
Klocker has lived in Telfs for 40 years. He dismissed his dream of moving to the Leutasch Valley for the sake of his wife Marianne. "I would love to live here, but Marianne preferred to stay in Telfs." In exchange, she now has to do without her Hermann six days a week from morning to night. "But she can cope with that," he says proudly and confesses, "Sunday is always all hers, often the whole weekend. And then, of course, I wear the spending pants." He never says no to any excursion request, whether to the children or to St. Moritz: "Then we go wherever she likes.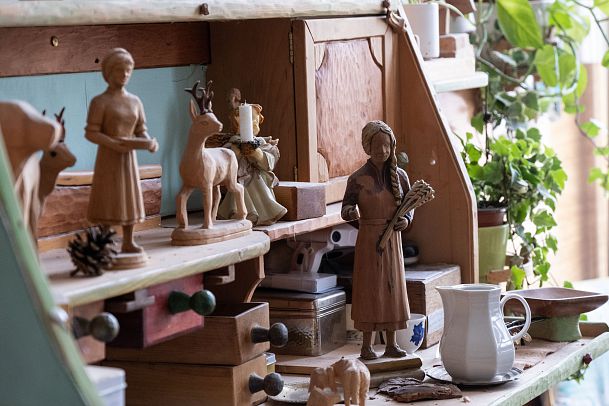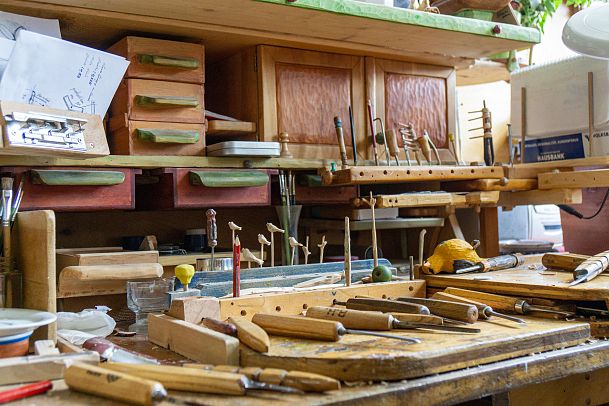 Zither and chess - playing in company is the way to go
Because the passionate carver is definitely not a hermit. He likes company, enjoys it when one of his chess partners comes by the carving room. Then the carving work is put aside, the pipe is lit, and the game is played. With other guests, he also likes to unpack the zither and play a Gsatzl. Like carving, he has also taught himself to play the zither. He plays without fingerings or registers, but with joy and skillful passion. "Fate has probably been kind to me with the talents," he says with a modest smile. Maybe.
Nativity time: the most beautiful time of the year
But maybe it's also because Klocker approaches everything with a lot of dedication. So he is now also already looking forward to a special time in the carving year, the time of the nativity scenes.

"These are my most beautiful commissions, romantic nativity scenes in a mountain landscape."

He carves the figures, and for the landscapes he looks for materials in nature. "I take a walk every day and see what I find in nature. I then process that with a lot of imagination." A nice side effect is that the natural materials mean he never loses touch with his customers. "The wickerwork I use doesn't last forever, so I have to replace it every few years." Which, of course, the 82-year-old enjoys doing, and is pleased every time his work is cherished.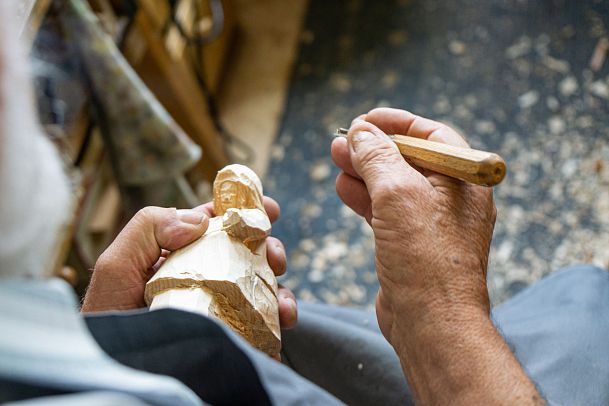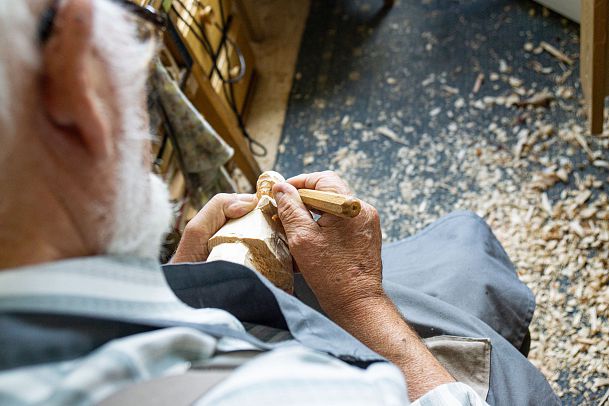 Klocker himself also holds many things in high regard: Above all, his talents and the chance to work at the Kulturhaus Ganghofermuseum. That's why he hopes to be able to travel to Leutasch every day for a long time to come and give something back to the region with his work in the museum:

"Because there is always something to look at with me."

Hermann Klocker can usually be found on the second floor of the Kulturhaus Ganghofermuseum during opening hours. To find him, it is best to follow the carving noises or the fine scent of the Swiss stone pine wood. Because that is what he prefers to use for carving. If you don't smell it, you will certainly be greeted by the spicy scent of pipes instead.