TIPS AND RECOMMENDATIONS
The Seefeld Tuesday Market: Where regionality meets international flair
There is hardly a place that invites people to exchange as much as a market. This also applies to the Dienstagsmarktl in Seefeld, which takes place every Tuesday from June to September from 10 a.m. to 4 p.m. at the village square. The small market is really something special: It is not just a weekly market for the locals, where bread, sausage, cheese, fruit and vegetables are sold. Neither is it a pure tourist market, offering only souvenirs and special regional delicacies. No, the Tuesday market can do both, and so a colorful clientele of locals, day trippers and guests meets at the village square.
The local dialect mixes with those of the neighboring regions and many international languages. This mix results in wonderful scenes time and again: In the shadow of Seefeld's parish church, a veiled vacationer from the Arab world laughingly chats with a tourist in a miniskirt, and both cheerfully greet the dirndl-wearing waitress from the adjacent pub. Observing these special moments is not only fun for market visitors. For the stallholders, as the stall operators are affectionately called in the region, they are the special attraction that has kept most of them coming back to the plateau community every market season for many years. As a result, they have virtually grown together to form a family, which in turn makes the market a special experience: in conversation with the stallholders, rummaging, shopping and enjoying culinary delicacies are mixed with getting to know the region and some of its unique items. We would like to introduce some of them in more detail below and thus provide a small insight into what else awaits you at the Dorfplatz every Tuesday in addition to sustainable goods from the region.
Ferdinand Schot: "Ferdi´s Imkerei"
First of all, there is organizer Ferdinand Schot from "Ferdi's Imkerei": The passionate beekeeper has already been selling his valuable bee products at the Tuesday market for years. Heuer additionally took over the organization of the market with a lot of heart and soul: "The market is important for us local entrepreneurs and has been successfully built up over years - that's why I'm happy to take care of the organization." When the Tuesday market is not occupying him, Ferdi, as everyone calls him, enthusiastically pursues his main activity - running his own apiary in Mösern. Here he calls about 500 bee colonies his own and convinces locals as well as guests with his carefully manufactured products. The local and sustainability-oriented product range extends from honey and small sweet nibbles to honey schnapps and wine to cosmetics and health products with honey and propolis. "It is close to my heart that I can give more back to nature through my creations than I take out."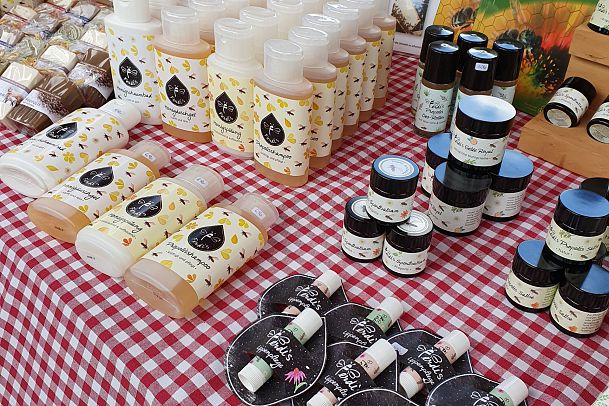 Thomas Kluckner & Waal Sterneberg: "Zomm – Meilerhof"
As far as the focus on sustainability is concerned, Schot actually agrees with all the stallholders. This is also the case with market newcomers Thomas Kluckner and Waal Sterneberg from the restaurant "Zomm - Meilerhof": In 2018, the two top chef friends took over the Meilerhof with the intention of offering regional, seasonal cuisine from nose to tail. With this philosophy, they have now become much more than an insider tip in the region. At the Tuesday market, this special top cuisine is now also available to take away. At the stand, you'll find sweet treats - homemade syrups, muesli mixes, and jams - as well as savory delicacies like seasonal sugi, pesti, sauces, or soups. "People are also welcome to put together small gift baskets or enjoy samples on the spot," says Sterneberg's wife Anne Sus, who oversees the market stall and provides expert advice to guests and locals alike on which local treats are best enjoyed at home.
Regional products on sale in the pedestrian zone in glorious weather
Alois Haslwanter: "Rasler"
Local Schmankler to take away is also available at Alois Haslwanter - "Rasler": - For 150 years, regional products from their own agriculture have been the focus at Rasler. This is also evident every week at the Tuesday marketl. Alois sells with enthusiasm what he and his family have previously produced themselves on the farm: Bacon, sausages, liqueurs, herbal mixtures and juices, to name just a few things. "We make the vast majority of things ourselves, starting with smoking and ending with distilling schnapps. Even the apricots come from the old tree on our farm in Reith." Only the cheese is bought in, he says. "But that has been from the same farmer in the region for 40 years." So no matter what you pick up at the Rasler, you're always holding a real piece of Tyrol in your hands.
Monika Praxmarer: "Pure nature - wooden souvenirs and wood engraving".
A real piece of Tyrol you can take at the Dienstagsmarktl but not only to eat, there are them also as decoration or souvenirs would like to take. For example, Monika Praxmarer - "Nature pure - wooden souvenirs and wood engraving": Monika comes to Seefeld every week from Roppen, 40 kilometers away, because the Dienstagsmarktl has become like a second home to her. "I love the cohesion and the family atmosphere here, and the small round marketplace with its uniform design." Since her childhood on her parents' farm, Monika has enjoyed tinkering with wood. The tree slices, which she usually decorates with engravings, come from the maple trees in her own backyard. "The branches grow back, and you don't create any waste that way either." That's real sustainability, she says. She is also delighted every time a customer - whether from the region or further afield - leaves her stand with one of her handmade natural products in their hands.
Leni Prast: "Bauernblumen"
Handmade and with a lot of tradition and love are also the pieces of Praxmarer's stand neighbor Leni Prast - "Bauernblumen": The Telferin can be rightly called the Urgstein of the Tuesday market. "I've even been honored once for 10 years of the market," she says with a modest smile. And not only that, she can also look back on more than 20 years of craft festivals, many years of market days and Christkindlmarkt, as well as countless other markets in Seefeld. And yet she is still very happy when she can sell her homemade farm flowers and other treasures at the stall. "I work every day to make sure I can still do it for a while," says the 80-something, her blue eyes twinkling merrily from under her black hat. Special hats and always very dapper clothing are Leni's trademark features and probably make her the most photographed stallholder.
With us for decades: craftswoman Leni Prast
The products she sells, from self-placed dried flower arrangements to jewelry and sometimes hand-knitted items, she makes all herself. Christian symbolism is important to her. The international customer base her pride and joy: "I've had Finns come to me, Italians, French - that gives me great pleasure." And even if she regrets that she doesn't speak any of the foreign languages, she always finds an approach to her customers with her smile and her bright eyes.
Pastor Bernd Fetzer: "Bread and Sausage" at the Tuesday Marketl
Pastor Bernd Fetzer, who closes the row of stands of Praxmarer and Prast with "bread and sausage", has a special approach to his customers and to the market itself. But how does a priest actually get to the market? In the case of Bernd Fetzer, it's a long story that the eloquent Protestant theologian likes to tell. It all started during his last pastorate in the Odenwald with the search for a new menu for the meal after the Hubertus Mass. With two chef friends, he developed sausages full of innovative ingredients, which were then literally snatched out of their hands. "At the same time, there was a high demand for childcare in the community, which we eventually financed by continuing to produce and sell our new sausages.

"Sales were made at the surrounding markets, and this was taken over by the Mr. Pfarrer. "I like the market, never are you closer to people and life."

Being in the middle of it all, he said, often opens up exciting conversations, even about religious topics. So it's no wonder that when Fetzer was drawn to Tyrol for love, he came to the Dienstagsmarktl. He almost wrote his doctorate in Innsbruck on the explosive relationship between the market and the church, but remained true to his original topic. Nevertheless, he collects his observations and stories that he experiences week after week in Seefeld, writes about them, parlays skillfully in German, English, French and Italian and enthusiastically sells bread and sausages. The latter are still largely made by himself in the small Odenwald sausage factory from the beginning of his market career. Humorous sayings, such as that one can grow wings for a short time when eating Hildegard von Bingen Bort, come free of charge. And you can tell it's true when Fetzer says, "I just love being here." Fetzer's love for the Dienstagsmarktl is probably shared by all the stallholders and certainly by many visitors. It's not for nothing that stallholders like shoppers come back year after year, or even week after week. But even a one-time visit is worthwhile! However, you should not be surprised if you then quickly become a regular customer.
Pastor Bernd Fetzer offers a wide range of bread and sausage
The Seefeld Tuesday Market: from June to September
Have you become curious? The "Standler" at the Dienstagsmarktl are looking forward to your visit! The Tuesday Market is open every Tuesday from June to September. Every Tuesday from 10 a.m. to 4 p.m. - regardless of the weather. Location: the idyllic village square in the Seefeld pedestrian zone. All information is also available here once again.
Dienstagsmarkt'l in Seefeld in Tirol: Regionaler Markt