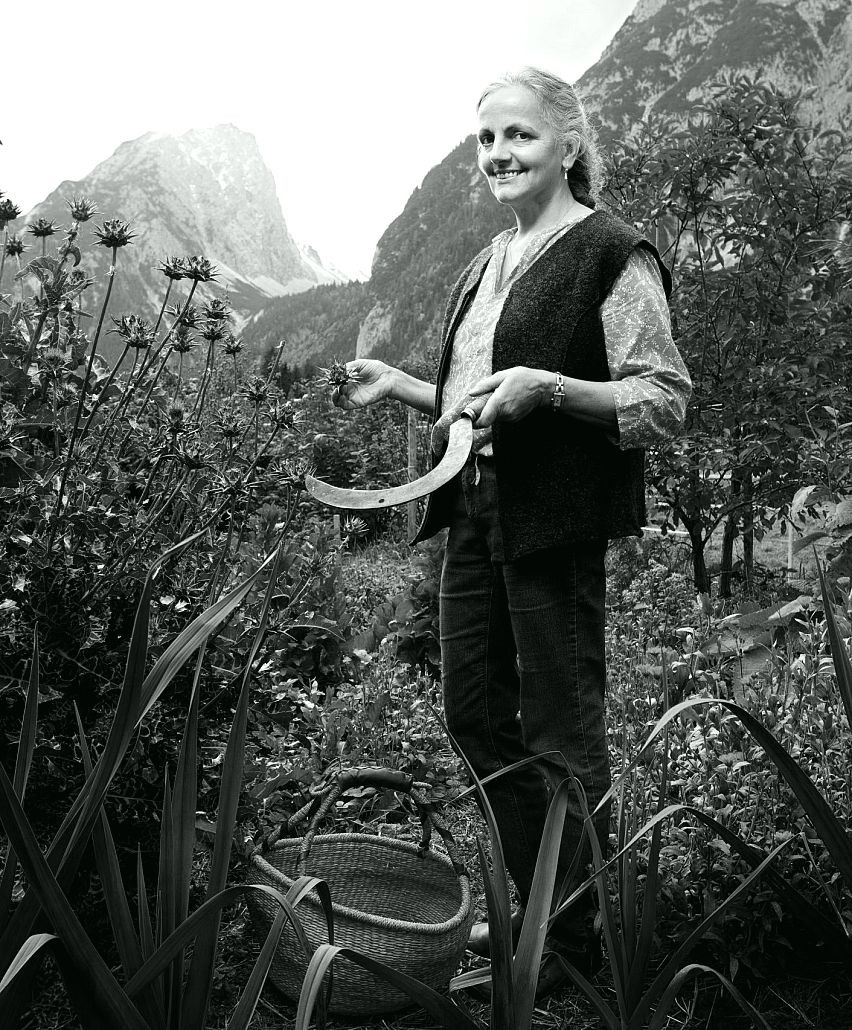 TRUE LOCALS
True locals: Johanna Krug and her herb garden
Johanna Krug has her little paradise right on her doorstep: her herb garden. On 700 square meters she has realized her own dream. A huge variety of colorful and fragrant plants bloom at her Josl Hof in Unterleutasch – even though she was told that nothing would ever grow in the Leutasch...
"It'll never work!" – "And even more so now!"
"Nothing grows in Leutasch anyway, it's in vain!" That's what Johanna had to have her mother-in-law tell her when she wanted to grow a garden on the Joslhof deep in the Leutasch Valley 38 years ago. Leutasch at over 1,110m above sea level is, after all, one of the snowiest places in Tyrol and has a very harsh climate, especially in winter. Johanna replied at the time, "I can't imagine that! I'd like to try it, though."

Then in the 90s she started growing herbs and since then the garden has grown steadily. "Almost 4 times its size now!" laughs Johanna, who has a warm smile on her lips with every sentence. It all started with a stick of sage. Experimentally, she used different herbs at the time and it worked quite well. Now Johanna grows almost every herb you can imagine – or rather, that does grow in Leutasch. "It takes a bit of perseverance and courage," she smiles. "Some herbs I have to grow three or four times until I finally find the place they like. Or the herbs find their favorite spot themselves by seeding themselves."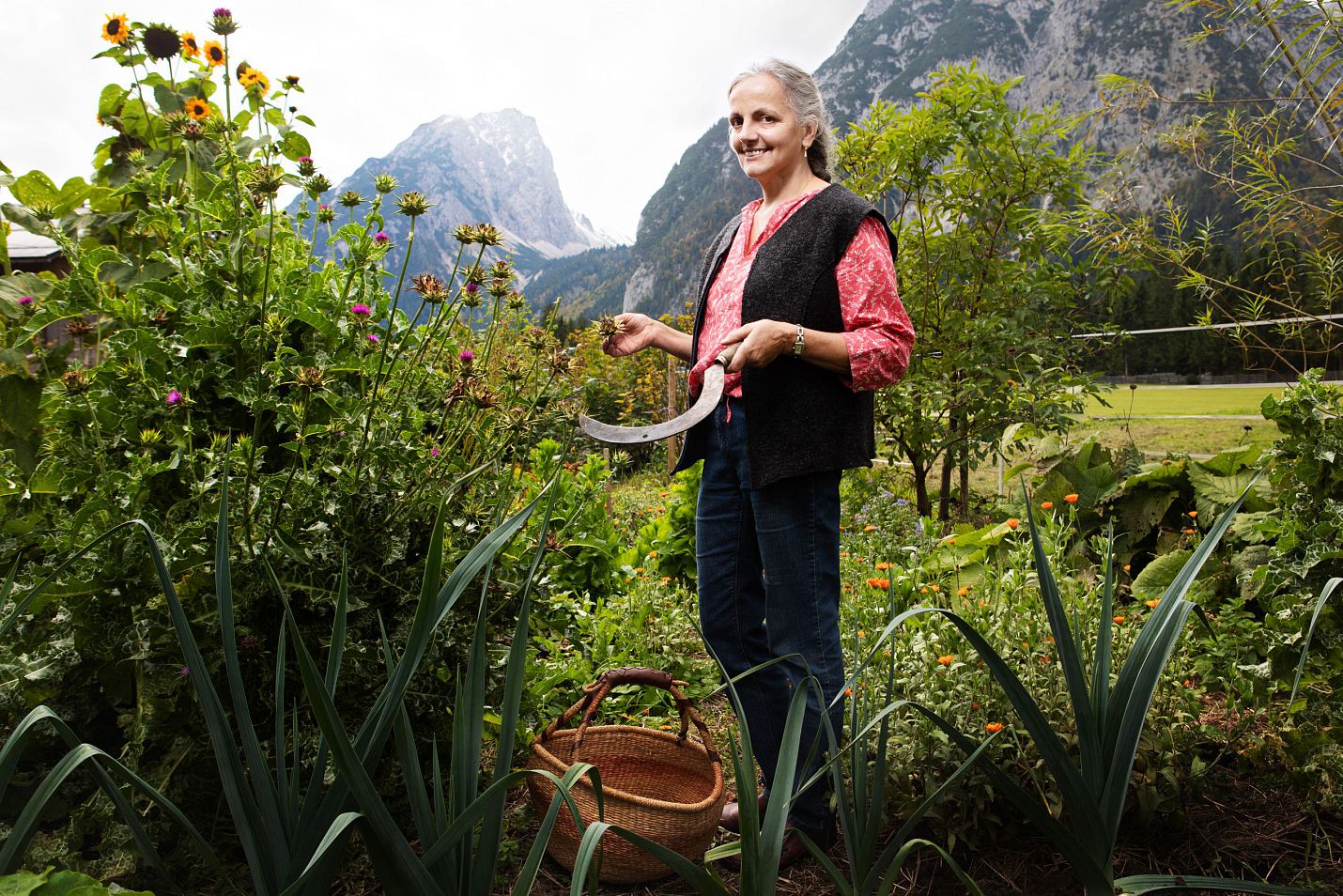 Johanna Krug in the herb garden
Much more than just beautiful to look at
Since her first sage stick in 1996, Johanna has learned and experimented a lot. "I have turned my hobby into my profession!" she enthuses. She processes her herbs into a huge variety of products: homemade teas, herbal pillows, herbal baths, herbal salt and much more she produces for sale. These products are very well received in the Leutasch farm store. For herself, she loves to make tinctures, ointments and creams. She also makes good use of her herbs for the cows. In addition to her master's degree in rural home economics, she has training in homeopathy for cattle and is a certified herbal educator. She never runs out of ideas for new products. "I would love to try everything I read about immediately! But unfortunately there is not enough time." Since this winter, however, she has been working extensively on smoking local herbs. This, too, has a long tradition in Tyrol.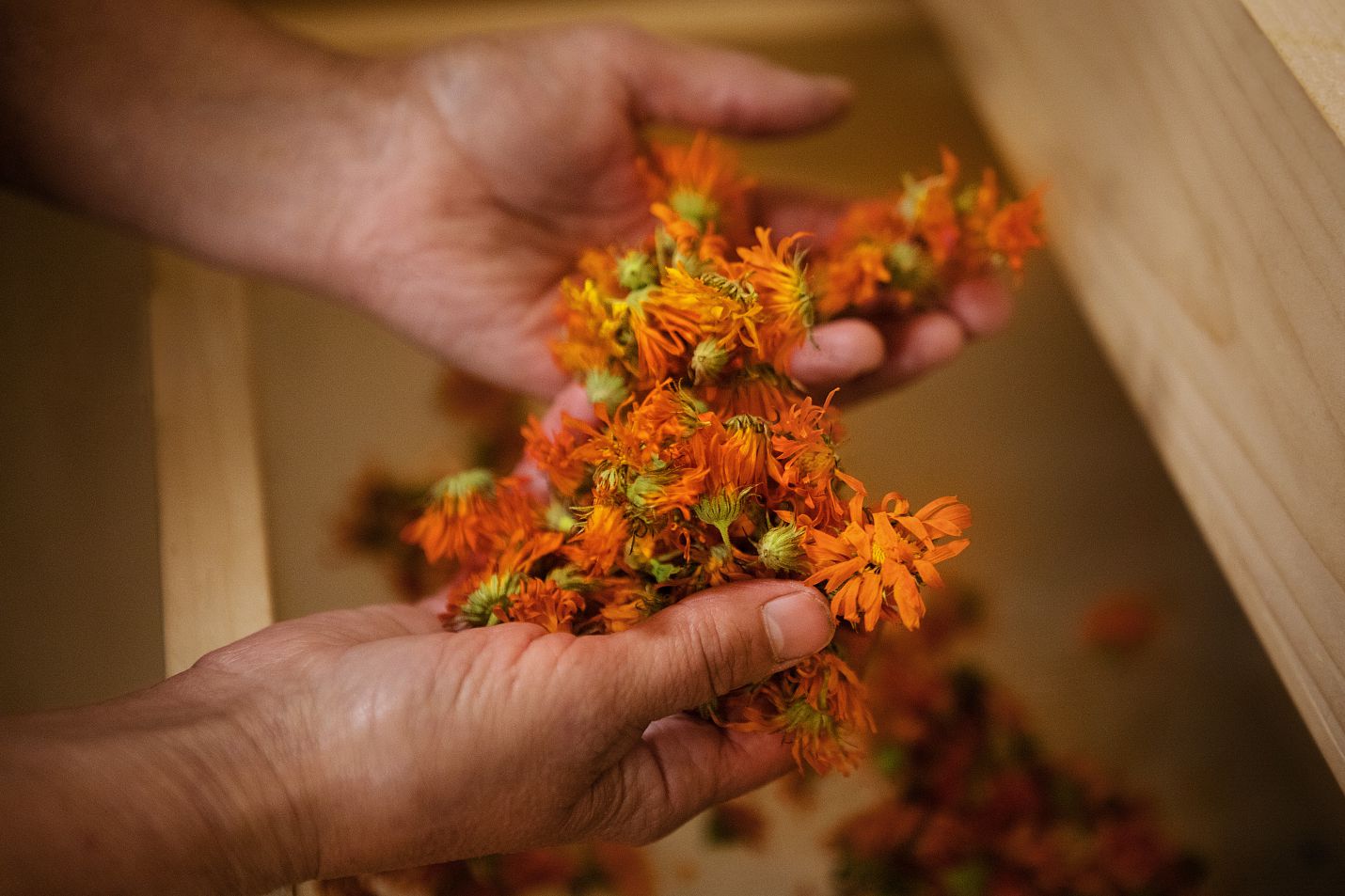 All pure handwork
From cultivation to harvesting, to drying and processing the herbs: almost every step of Johanna's work is done by hand. Her garden is huge – but still too small for machines. Besides, Johanna really appreciates the work, even if it is often physically hard. "I'm a grounded person and down to earth. I like to be with my hands in the earth to feel it. Good soil is the most important thing for a gardener!" So in the summer, she is in the garden from early morning until late at night, weather permitting.
Entrance to Johanna's Herb Garden
Useful little helpers
"Weeds" don't really exist for Johanna. She knows that every plant can be used. Therefore, she also has a tip for all those who can't get rid of their "weeds": "Most of the time, the herbs come to you that you need! Therefore, you should look at what the plant is good for. Nettles, dandelions, goutweed and many more are great to use and each herb has its own effect. If you use them often, you can contain the growth and do something good for yourself."

This is also how Johanna keeps it in her garden. With her, every herb is allowed to grow where it finds room. "As long as I can still reach everywhere to harvest, of course!" Stinging nettles between the mint is therefore not so clever, she laughs.
Winter had Leutasch firmly in its grip again this year. The amounts of snow do not bother the garden, because they act like a blanket for the plants. The frost, on the other hand, is very damaging to them. The weather played a little crazy this spring and brought snow and frost until May. But with her skill, Johanna will surely make her garden bloom and smell again this year!
Johanna Krug im Kraeutergarten
Born in Lower Austria, she came to Leutasch for work – and stayed because of love.