Music Days - Night of Classics
A Life for Music
Franziska Ude from Seefeld is now living her dream as a professional violinist thanks to the Seefeld Music Days

You could say Franziska Ude had a very classic Seefeld childhood, spent a lot of time outdoors and skied down every steep slope with her grandfather. And yet, at the age of five, she already knew exactly that her love was music, especially the violin. Today, playing the violin is her profession - thanks to a lot of hard work, a few coincidences and Rudens Turku.



Good to know! The Seefeld Music Days by and with violinist Rudens Turku always takes place in Seefeld in August. In addition to master classes in violin, courses are also offered in viola, cello, flute, oboe and clarinet. Rudens also organises academies in Starnberg (Bavaria, April) and Flims (Switzerland, October).
Musical path to becoming a violinist
"There is no musician in my family," Ude says with a laugh. "No one knew why I suddenly wanted to play the violin when I was five." But her parents didn't ask why for long, but enrolled their daughter at the Seefeld Music School. There she met Toshio Oishi. The outstanding Japanese violinist taught in Seefeld for exactly one year before he began working as a lecturer at the Mozarteum in Innsbruck and Salzburg and became concertmaster in the Innsbruck Symphony Orchestra. He recognised Udes talent immediately and so she was already on the big stage in her first year in the Olympic Hall of the SKZ. "He was an incredible inspiration to me," the now 26-year-old recalls. "And solidified my desire to become a violinist".
From then on, the little violinist always wanted to perform. "I played for my mother in the morning before school, at noon before and after dinner and in the evening before bed". So the passion was not to be overlooked, or rather not to be overheard. And so the Ude family set to work, looking for every opportunity for Franziska to play, learn and meet other musicians. And so she came to the second Seefeld Music Days in 2010 at the age of 12. The way to the Kapitelsaal was not far from home, but the step it triggered was huge. "I entered the world of music, learned that the violin could become my profession and found a unique teacher in Rudens." Such a meeting cannot be planned, or even wished for. Turku also immediately noticed the talent and passion of the young violinist standing in front of him: "I told her once at the very beginning - 'Someday you will educate and inspire the children here in the village'." Today, as her teacher, he is immensely proud that she has really taken this predicted path.
After primary school in Seefeld, Ude went to the Gymnasium in Innsbruck. In the upper school, thanks in no small part to Turku, she switched to the Musikgymnasium, and later to the Musikhochschule Feldkirch, where she graduated with a bachelor's degree in violin and pedagogy, as well as a concert diploma (master's degree). "Rudens has always accompanied me, helped me prepare for the exams. Without him, I certainly wouldn't be here," says Ude. "He is an outstanding violinist, but above all a born pedagogue full of heart and passion." You fight with him for every grade, he is often strict, but because he is so passionate about his work, as a student you are happy to go along with him on this sometimes hard path.
Not everyone keeps it up - "at some point, the struggle for every grade was too much for my sister, she then followed her other talents". But for Ude, after the music days in her hometown opened the door to the big music world for her, not a minute of practising was too much.Today she is a music teacher in Vorarlberg, plays in numerous orchestras around Lake Constance, is in the process of founding her own trio with cellist Diego Lesmes and pianist Bernadett Bagyinszki, and participates in countless other musical projects. At home in Seefeld, she performed the Pachebel Canon at the Night of Classics in 2023 together with other former scholarship holders of the Music Days. A few days later she played elsewhere with a rock cover band. "I dabble in all styles with my violin," she says, "even if the romantic classical ultimately fits best."

The 26-year-old can only recommend her path to all music lovers in Seefeld. "It's a unique opportunity to have the Music Days on your doorstep". Being inspired by the concerts, applying for a place in the master classes and then coming back again and again is the best thing you can do as a young musician.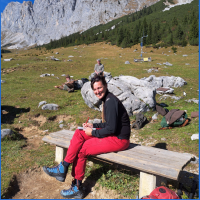 Sneakers, notepad and pencil are Kathrin's most loyal companions, because the mother of two has always been particularly at home in sports and writing. Always on the lookout for new stories, she can often be seen whizzing around with her kids and a piece of sports equipment or two. While she is often on the road at action-packed competitions as a freelance sports journalist, she likes to discover the quiet sides of Tyrol's high plateau for us. She especially loves to tell us about the little peculiarities of her adopted home, which you only recognize at second glance.