COOKING
Recipe for happiness: Schlutzkrapfen
"You can't eat happiness." But you can! And with us in Tyrol: we have Schlutzkrapfen. A regional, traditional and above all simply delicious dish that simply belongs to Tyrol.
The Schlutzkrapfen is the king among the doughnuts – but with a little practice, the preparation is not so difficult. We have the "recipe for happiness" for you: Patrick Trois from the Dorfkrug in Mösern explains step by step how it works.

The whole story about the Schlutzkrapfen & the chef Patrick Trois you can find here!
Recipe Schlutzkrapfen á la Patrick Trois
Ingredients: 4 servings
... for the dough:

200 g rye flour
200 g wheat flour
5 eggs
3 tablespoons oil
salt
flour (for the work surface)

... for the filling

300 g spinach
40 g butter
1 onion (small)
nutmeg (ground)
salt
Pepper (from the mill)
50 g mountain cheese (grated)
50 g butter (brown)
Preparation
For the Schlutzkrapfen, mix the flour with the eggs, oil, salt and a little water to form a smooth dough. Roll out thinly on the floured work surface and cut out slices with a round cutter (approx. 8 cm diameter).
Then the onion is finely chopped and sautéed in butter until golden brown. The strained spinach is mixed in and the beautiful mass is seasoned with salt, pepper, nutmeg and grated mountain cheese.
Preparation of the stuffing
Now place some filling on each dough slice, brush the edges lightly with egg and fold the slices over each other in a crescent shape to press the edge down well right away.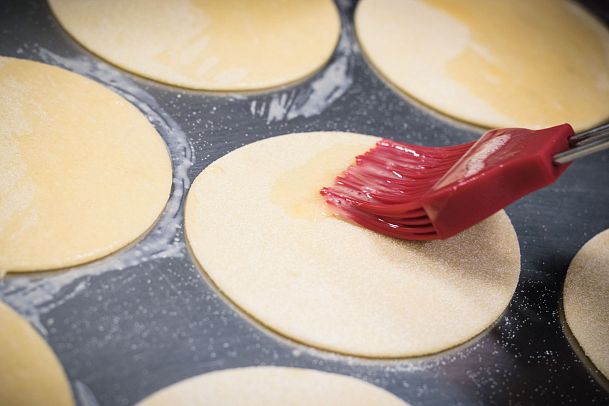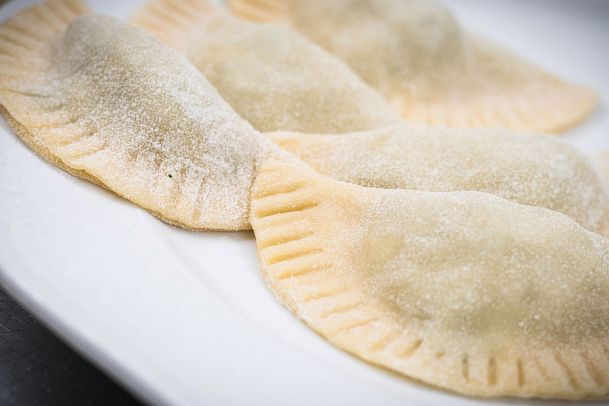 A large pot, filled with enough salted water is now brought to a boil and as soon as this is the case, the Schlutzkrapfen cooked in it for about 10 minutes.

When they are ready, they are lifted out of the water with a slotted spoon and allowed to drain, while in a large pan the butter is browned. The Schlutzkrapfen are tossed in it before being served on preheated plates. The grated cheese is sprinkled over them and the remaining butter is drizzled on top.
Tip:

It is not uncommon for cooked, strained potatoes and/or curd to be mixed in with the spinach mixture, making Schlutzkrapfen quite a rich snack. They also taste delicious with meat, mushrooms or nut-poppy seed filling – in this case as a dessert.

We wish you a lot of fun preparing and enjoying them!

The entire recipe is also available as a download for your recipe collection: