COOKING
Magic bread with tradition: The Tyrolean "Zelten"
Winter in the mountains is a magical time. Deep snow-covered valleys and long nights by the crackling fireplace. Then people tell stories full of miracles, of devilish creatures who punish sinners and saints who reward the good. Some of these stories are fictitious, others contain a kernel of truth. Various holiday foods accompany these age-old traditions, from Grandma's legendary Christmas cookies to the magical Tyrolean tenting. A sweet fruit bread with nuts, rich, delicious and long-lasting. The historical production of the Zelten is often subject to regional family recipes (Bozner- or Lechtalerzelten, which have been passed down from grandparents for generations. People also like to pass on the Zelten - it is given as a gift during the winter season, shared and enjoyed together. With a particularly mild "Zelten" butter or just like that, as a sweet refreshment in between.
Mysterious magic bread
In the rural areas of Tyrol, the tents are usually baked on December 21. On the day of St. Thomas, the longest night of the year. Accompanied by all sorts of superstitious ideas, people attached particularly mysterious significance to the popular baked goods on this night. Even the crumbs (poetically for breadcrumbs) of the tenting had magic powers: they were not to be disposed of carelessly, but were meticulously collected, fed to the animals in the stable or scattered in the fields. There are probably as many recipes as there are legends about the Tyrolean tents. How old the following recipe is, not even my own grandmother could tell me - she learned it from her grandma and you can't ask her today for a long time. At this point I would like to share her delicious secret anyway, even at the risk of then being justly disinherited: The enchanting Tyrolean traditional baking in four acts. Whoever bakes it, should plan time, because a tent requires a whole three days of preparation.
Ingredients for two to six "Zelten"
For the yeast dough:

300 g rye flour (type R960)
300 g wheat flour (type W1600)
about 400ml water
20g yeast
1 tsp salt (about 10g)
Some honey

For the filling:

Just under a kilo of dried fruit
250g figs
250g grapes/raisins/sultanas
150g dried pears
150g dried plums
To taste:100g dates

Good 300 grams of nuts
200 grams of hazelnuts
150 g almonds
Some almonds for decoration

"Zelten" spices
1 stick of real cinnamon bark
Whole cloves
½ tsp aniseed
1 small pinch of salt
To taste:
1 gestr. tsp. cardamom
1 tsp. ginger powder
1 pinch of pepper
1 pinch coriander
About 200ml liquid
150ml fruit juice (decoction of dried pears)
3-4 stamperl rum or fruit brandy
to taste:
1-2 tablespoons honey
possibly 100g candied lemon peel/orange peel
Act 1: The preparation of the tent filling
Two days before baking, the fruit filling is prepared. To do this, first boil the dried pears with cinnamon bark and two to three cloves in about 200ml of water until soft. Then drain, let cool and keep the decoction. Then cut the dried fruit (dried pears and prunes, figs, dates) into coarse strips. Remove cloves and cinnamon bark from the decoction. Mix the cut fruits with the cooled decoction, about half a teaspoon of ground anise and the rum or fruit brandy. Finally, cover with a dry cloth and let rest in a cool dark place for two days. Stir from time to time.
Act 2: The shell of yeast dough
After two days, then prepare the bread dough. To do this, sift the flours and mix them with the salt in a bowl. Then crumble in the yeast, pour water over it, add a little honey and knead everything vigorously to a smooth dough. Then cover with a dry cloth and let rise in a quiet place without drafts for 50-60 minutes until the dough volume is about doubled.
Act 3: The tent magic
While the yeast dough rests, you can work the nut mixture into the fruit filling. According to taste, you can also add some honey at this point, but you don't have to. The original sweetness of a traditional Tyrolean tent comes solely from the fruit in the filling.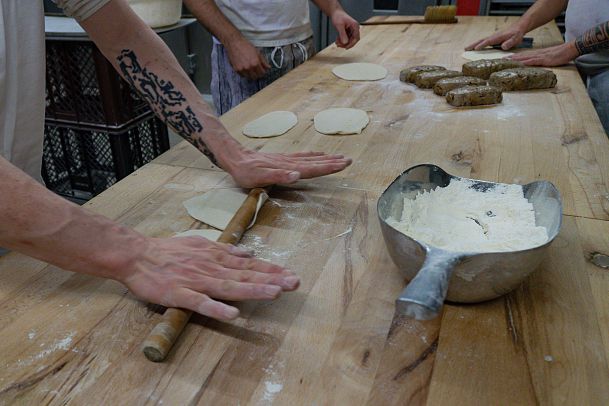 After the rising time, the yeast dough is beaten off and divided. One half is incorporated into the tent filling, and from the other - depending on the desired size of the tent - form two to six flat patches of dough. The filling is appropriately portioned into rectangles, placed on the water-brushed dough patches, and folded into a thin dough casing. Then position seam side down on a baking sheet, pattern the casing evenly with a wooden stick, and garnish with a few whole almonds. Cover with a cloth and let rest for another 25-30 minutes.
(Alternatively, the whole yeast dough can be incorporated into the filling mixture. Then shape the mixture into even balls and flatten into round loaves).
Act 4: The gilding
After about half an hour of rising time, brush the raw tents with water and bake in a preheated oven (no convection!) at 200°C on the middle rack until the decorative almonds are golden brown (grandma's analog tent timer). Portion guide: For 1kg tents about 60 minutes, for 650 grams about 45 minutes and 350 grams about 35 minutes. After baking, brush the zelten with water again and let cool completely on a rack before enjoying. Cut the Zelten then with friends, family and other favorite people.
"Zelten" on the tray in the Reither Brot