Winter
Five alternatives to après ski
Our year-round motto: Everything but ordinary! And our winter motto 2020/2021: everything but après! We have always preferred dignified winter sports fun instead of Pisten-Ballermann. That's why in the coming winter we'll continue to focus on genuine nature experiences and first-class enjoyment in the snow, hotel and restaurant. When it comes to skiing, the motto is "skiing, not gondolaing". In other words: virtually all of the approximately 30 kilometers of slopes can be reached without closed gondolas, except for a few meters. And afterwards? Here are five alcohol-free après-ski alternatives that you can only experience here.
Winter long-distance hiking: Once differently – 100 percent radiation-free
Get away from it all, find yourself in a meditative rhythm, experience nature with all your senses - long-distance hiking has been a new mega-trend not just since Corona. Long-distance hiking is not only possible in summer, but also in winter. On the first winter long-distance hiking trail in Tyrol you can try out the "winter sport for everyone". The advantages compared to skiing and touring: You are not in alpine terrain, you need neither special prior knowledge nor equipment and you are on the road at a distinctly low cost. Whether it's a four-day snow hike without snowshoes, a day tour around the five villages or a snowshoe tour through untouched nature – here you'll feel (almost) like you're in Canada!
Cross-country skiing: Full-body workout without a hangover the next morning
Hardly any sport has as many positive side effects as cross-country skiing: It is healthy, strengthens the immune system, is a real, original experience of nature - and is great fun. Cross-country skiing is increasingly becoming the new trend sport and if you haven't tried it yet, this winter at the latest is the perfect time to get on your cross-country skis! And you can do it soon: thanks to high altitude and snow farming, the cross-country skiing season starts up here as early as November 20, 2020. In addition, there are around 250 kilometers of trails for classic fans and skaters, a night trail, a dog trail and sledding trails throughout the region in winter. Anticipation awakened? Annual tickets and gift vouchers (e.g. for Christmas) are available via the online store and locally at the Seefeld and Leutasch information offices.
Curling: Better close to the stave than close to the crash
Anyone can shoot curling! At least in such a way that a fun game immediately comes about. You don't sweat, you don't need any equipment (you can borrow the ice sticks on site), you don't have to get into a gondola and you don't have to climb a steep mountain to do it. Ergo: Whether young or old, sporty or more leisurely – curling is great fun for everyone who loves fresh air and socializing in a small group! In curling, you slide the sticks as close as possible to the "stave" (the puck-like target). This "winter bowling" has a long tradition here. And it also offers a beautiful backdrop right next to the Seekirchl. The introduction to curling (cost: 14€ with the guest card) takes place here every Tuesday. Even more peace and quiet during the game and perfect ice for fun rounds can also be found at Toni's ice shooting rinks just a few minutes' walk from the center.
Ice skating: Double Rittberger on the ice instead of celebrity dance on the bar
Speaking of ice cream! Especially in these special times, you're happy about three things: fresh air, lots of free space – and immune system-boosting sports. So off to the ice skating! But please don't go to a stuffy indoor skating rink. But outside in the ice-cold nature. Around Seefeld there are great opportunities to flit across the blank ice with the narrow blades. The best example is Lake Möser. As soon as it freezes for a longer period of time and the ice surface is more than ten centimeters thick, the ice surface is prepared – including a panoramic path on the ice and an ice hockey field. For those who find Lake Möser a little too far from Seefeld's pedestrian zone, simply stroll to the artificial ice rink near the Seekircherl.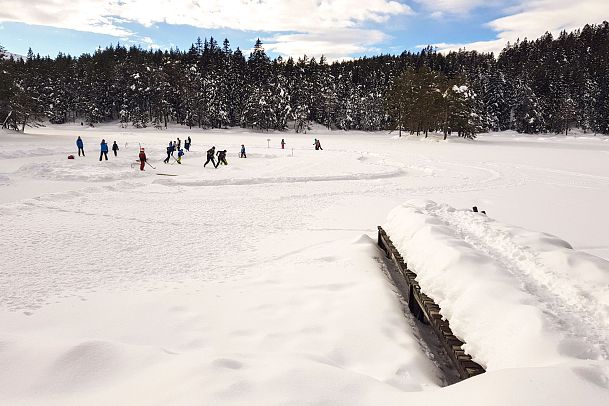 Sledding: better to descend carefully than to crash headlong
Tobogganing is as old as Tyrol itself. Once the wooden and horn sledges were working tools and means of transport in the steep terrain, nowadays sledding is becoming more and more popular as a versatile and inexpensive alternative to the slopes. In the region you will find no less than eight natural toboggan runs full of character: At the Katzenkopf, you can be pulled up in a very relaxed manner by the lift, in order to whizz merrily down into the valley after a stop at the Katzenkopf Hütte. The longest and most challenging toboggan runs lead from the Wettersteinhütte and Rauthhütte down into the valley. Those who don't like it quite so wild can whiz downhill from the Hämmermoosalm. By the way: You can also toboggan in the middle of Seefeld! From the toboggan hill opposite the Seekirchl and from the Pfarrhügel down towards the Wildsee. The most beautiful toboggan runs and descriptions can be found here.