Summer
A Journey to Me Before the Rising Mountain Sun
...or what a Sunrise Yoga Session at Seefelder Joch with Marcel Clementi can change...
When the alarm clock rings at 3:50 in the morning, I'm not one of those people who jumps out of bed fresh and motivated. I'm also not a big yoga fan - I've tried it a few times and have noticed the positive effects on body and mind, but I haven't stuck with it. Nevertheless, the advertisement for Sunrise Yoga with Marcel Clementi at the Rosshütte somehow didn't let me go. And so my alarm clock actually rang at 3:50 a.m. in July 2022, and I got up - not fresh and radiant - but excited and yet also a bit motivated.

A little later, when I walk to the valley station of the Rosshütten cable cars with my mat, tea and warm clothes, the tiredness is quickly gone - because I'm not alone. From all corners of Seefeld, figures dressed in jackets and scarves appear with yoga mats under their arms. I see one or two familiar local faces; but there are also many strangers mixed in. "We were looking for one last experience for our departure day," two young women from Germany tell me as they walk with me to the train. "I'm taking this as the start of my vacation and left at 1:40 a.m. today," says a lady from Bavaria.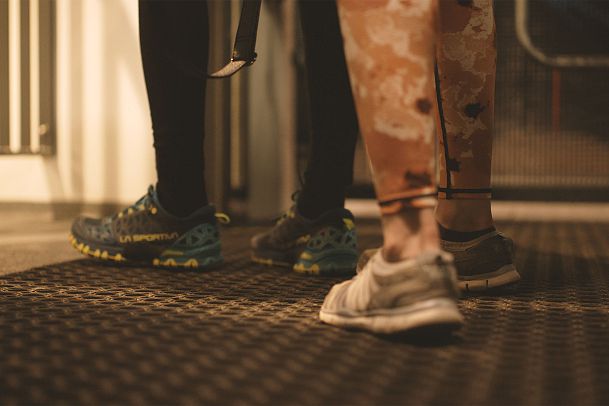 When the funicular leaves at 4:30 a.m., it is filled with the excited whispering of the 100 or so participants who want to greet the sun with Clementi in a very special way at the top of the Seefelder Joch.

At the top, we are greeted by the coolness of the summer morning on the mountain, soft, spherical sounds and a good-humored Marcel Clementi: "Take time to feel what freedom is for you - because that's our theme today." And so now I sit on my mat, close my eyes, feel the fresh morning air on my face and suddenly there is an incredible amount of space inside me. It sounds a bit cheesy, but this moment at 5:00 a.m. at the Seefelder Joch, just under 1000 meters above my everyday life really feels like freedom. Clementi takes up our thoughts and tells us personally that for him, too, the feeling of freedom comes again every time he sets out early in the morning for his Sunrise Yoga sessions in Seefeld.
Once in the moment, movements, yoga flows and for me - admittedly - many a physical challenge follow. But Clementi, with his personable manner, manages to make each of us feel like we're doing great. "Remember, we have spotlights on our butts to light up the sky" - a giggle goes through the crowd - "you can't do anything wrong, everything in yoga is just the way it is" - a sigh of relief - "those who can do it better have simply tried it more often" - the thought of getting on the yoga mat more often slowly begins to settle in my brain.
At some point the sun winks over the mountain peaks of the Karwendel and everyone pauses. And of course one or the other cell phone is pulled out to capture this magical moment "We never miss in such moments to pull out the phone to film, but with it often these simply to experience," reminds Clementi gently. I feel caught, put the phone away and take another breath, close my eyes, let the sun tickle my eyelids and have to admit that the inner picture that emerges is great - much more beautiful than any cell phone photo, no matter how great it is.
To finish, Clementi then gives us a few of his life's wisdoms: Tells how his grandfather advised him to always turn his face towards the sun so that the shadows fall behind him. Or explains that half-empty glasses are much better in a time when everything has to be full and perfect, because there is still plenty of room for something new in them. Some of it may sound like a calendar saying or be old news, but these sentences, which the Tyrolean says with simple honesty, have a certain power to trigger something up there on the Seefelder Joch.

Thus, after the end of the yoga session, many still seek the proximity of Clementi, ask questions, take a picture together, have an exercise shown to them. The native of Innsbruck responds patiently and smilingly to everything, takes his time.
Even later at breakfast, which everyone can enjoy before the descent in the restaurant of the Rosshütte mountain station, he is there for anyone who still wants to know something. The calm of the yoga morning has given way to cheerful laughter. And yet almost all conversations revolve around the past two hours. Because somehow they have done something to us. With me, too: I haven't mutated into an early riser and fanatical yogi - but I have meanwhile incorporated a few flows into my daily routine, marked the dates for the next Sunrise Sessions in my calendar, and I'm even already toying with the next Good Vibes Festival, which will take place in Seefeld from June 30 to July 2, 2023 and will offer not just two hours, but three days of yoga with Clementi and some of his dearest colleagues from Germany and abroad.

The next yoga dates in the region:

* 10.06.2023
* 12.08.2023
Sunrise Yoga at Seefelder Joch with yoga instructor Marcel Clementi | Bergbahnen Rosshütte
This moment when the night turns into day. It is an indescribable feeling, this special time in the middle of the mountain world ...