Summer
Rolling instead of gliding
How roller-skiing can quench the longing for winter...

I had always thought of roller skiing as training for the pros. Why should I, as a hobby cross-country skier, get on those strange short metal rails with rollers? After all, there were bikes, hiking boots and so on to keep you in shape for the winter in the summer. But somehow I'm already looking forward to winter and cross-country skiing. And so, over the past few days, the constant sight of the roller ski track in my home town of Seefeld has become more and more appealing.

The first descent
I take my children with me on inline skates. When I saw them speeding down the first descent and braking so skilfully with their rubber stoppers, I wondered why I hadn't chosen this option. Because I would have loved to have a brake that I don't have on my scooters. But I have my pride. I had a friend who is a cross-country ski trainer explain the braking technique to me beforehand and I practised it on the road in front of my house, which is quite flat. I also know that I have a good command of the classic and free technique of cross-country skiing - at least on snow.

Putting on the roller skis standing up is no problem, and the first double pole push also works. But then I'm faced with the first descent and all my courage is gone. I had chosen the classic version of the roller skis because they were much slower, but they didn't seem slow to me at all, on the contrary. My son, who was running in circles around me on his inline skates, asked me with a laugh: "Are you scared, Mum?" "Yes," I admit, whistling at my pride. I took off the skates and walked down the first slope.

Unlike trails in many other regions, this track is open to the public. Anyone who buys a ticket can use it on roller skis or inline skates. The three metre narrow tarmac strip that winds through the green meadow is largely the same as the A1 night trail, but also includes part of the C1 World Cup trail. This steep C1 climb illustrates why rollerskiing seems to be reserved for professionals. The flat part of the A1, on the other hand, seems pleasant, the soft meadows around it reassuring. So I took the plunge and started my roller skiing project.
Tips from the pros
"Many people underestimate the fact that roller skis have no brakes and the wrong equipment can quickly become a weapon," says Martin Tauber, who as a former World Cup professional has not only covered thousands of kilometres on roller skis, but also teaches the summer version of cross-country skiing at his XC Academy Seefeld. "The courses in summer are much less busy than in winter, but they are also attended by people with very different backgrounds." The clients range from competitive skiers to ambitious hobby skiers to absolute beginners.
A fact that is also reflected on the roller-skating track. I meet professionals, up-and-coming skiers, ambitious hobby skiers and even the odd pensioner who seems to be a little more wobbly on his wheels than I am. Tauber would probably advise most of us to take a course. "The most important thing is to master the braking and steering techniques. Then it's really a safe thing to do." And the equipment should be right. Time and time again, customers come to his cross-country ski school with racing scooters or cheap ski scooters with hard plastic wheels that they bought on the Internet. Both variants are far too fast for inexperienced skiers on Seefeld's bumpy track and can easily become uncontrollable weapons. "I really recommend everyone to get good advice from a specialist shop and to spend a few euros more".

Tauber's tips are also shared by Benedikt Ertl from the neighbouring Olympic base in Garmisch-Partenkirchen, Bavaria, and German cross-country skier Max Olex. Both spend a lot of time on the Seefeld track. Olex for his own training, Ertl with the Bavarian youngsters. Both appreciate the track on Tirols Hochplateau. "Because of its profile, which is very similar to that of the competition tracks in winter, it is top for professionals. At the same time, it is also easy to master for hobby skaters," says Olex. "As long as you skip the uphill section of C1 and especially the downhill section," he adds with a grin. Junior coach Ertl is happy to have a legal training track for his athletes. "Because of the lack of brakes, roller skiing is actually forbidden on footpaths, cycle paths and roads in Germany and Austria". Unless you are going at walking speed on the pavement.

Sore muscles, but also a lot of fun
But even I exceeded this minimum speed for the first few metres after putting on the roller skis at the end of the descent. After talking to the experts, I felt a bit of a fool for having set off without a course. But in the end I managed to do a few laps - without the C1 climb! After the first refusal, even with the descents. The classic technique worked well for me. The next day, however, I could understand Tauber's objection that classic roller skis were not the right choice for beginners. Classic scooters are quite difficult to control, skating on them requires concentration, a stable technique and a certain amount of strength and endurance. Although I would describe myself as technically and conditionally reasonably fit, I have the muscle cold of my life. My ankles, my thighs, my hips and my buttocks must have been working hard to keep me straight on the track and not to kiss the asphalt in an involuntary split. Speed or no speed, next time it will be rollerblades with more stable shoes and a skating style similar to inline skating. And I'll also treat myself to an official lesson on the track to go over the subject of braking again.

But back to the end of my roller-skating excursion. When I finally arrive at the World Cup stadium with my son, the roller skis are running smoothly, the rhythm is right and I almost feel like I'm on skis, although the winter glitter is clearly missing. "I'd like to try it now," says my nine-year-old. "Maybe next year," I reply. As far as the children were concerned, Ertl was very clear: "It makes no sense at all for children under ten. Besides, the kids should be able to skate properly on inline skates." If you put them on the heavy roller skis too early, the fun is quickly lost, and even children who have been skating for a long time under professional guidance suffer from poor technique.

I switched back to running shoes and cycling until my sore muscles had subsided. However, the fascination of cross-country skiing in the summer never left me. So my first official training session is booked. And before that, I'll pay the track a visit on inline skates.
Information and tips:
The 3.8 kilometre long roller run from the Seefeld sports arena towards the Möser valley opens at the end of April. It is only permitted to use the track for training purposes with ski rollers or inline skates. Use on foot, with prams, running wheels, skateboards, scooters or bicycles is expressly prohibited for safety reasons. Please respect the rules of use! As many athletes use the scooter track at high speed, misbehaviour significantly increases the risk of injury to both parties.

A day ticket costs € 7.00 and is available from the Seefeld Tourist Office at the railway station. Annual cross-country ski passes for the Seefeld region are also valid. Children and teenagers up to the age of 15 ski for free. Training groups must book in advance at arena@seefeld-sports.at.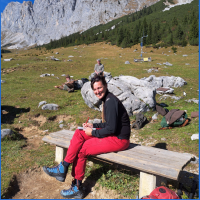 Sneakers, notepad and pencil are Kathrin's most loyal companions, because the mother of two has always been particularly at home in sports and writing. Always on the lookout for new stories, she can often be seen whizzing around with her kids and a piece of sports equipment or two. While she is often on the road at action-packed competitions as a freelance sports journalist, she likes to discover the quiet sides of Tyrol's high plateau for us. She especially loves to tell us about the little peculiarities of her adopted home, which you only recognize at second glance.